Styling services for companies
Style Di Fortuna for Companies
Creative styling solutions for media, music and fashion industry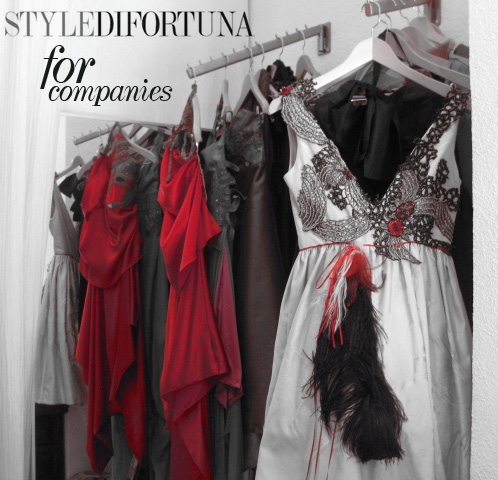 Using our extensive knowledege and expertise,to help clients improve their image, produce ideas for photoshoots, select clothing & accessories for events, filming and photoshoots, work for fashion magazines and more.

The team of Style Di Fortuna has worked in the Fashion and Styling industry for several years. Throughout this time has worked extensively on Feature Films; Television; Commercials; Music Promos and now more predominantly in the Fashion Area, and advertising.
As part of the fashion team, Fiorella and Ornella styled Celebrities and Fashion features as well as the shopping pages. We are a team of personal and corporate stylists who has worked extensively with corporations,workshops on style, fashion, personal brand and workplace dressing, led by the heads stylists Ornella Gallo Di Fortuna and Fiorella Gallo Di Fortuna.

Wardrobe Styling
We work on film, television, concert or theatre productions, developing the look and/or selecting the wardrobe items for the actors/actresses, musicians/performers, dancers or television personalities.
Commercial Styling
Styling models or actors/actresses for advertising/commercials – anything from selecting the wardrobe items to coordinating the shoot – selecting the location, models, makeup artists and even the photographer.
Editorial Styling
Concepting and organising the photo shoots for the pages in fashion magazines and other media publications. Selecting items to appear in fashion product pages for magazines and writing articles on personal style, fashion trends etc.
Show Styling
Organising events and fashion parades. Public speaking/comparing, working backstage at fashion parades, selecting models, organising the running order, selecting garments and/or accessories, selecting the venue, developing the event concept, dealing with the media, photographers, and PR companies.
Personal Styling/ Celebrity Styling
Provide advice or assistance to clients on how to improve their image by selecting clothing and accessories that complement their figure and skin colouring and are suitable for their lifestyle. Taking clients on shopping trips and selecting clothing items for clients to wear to events etc., providing advice on skin care, hair style, self esteem, beauty treatments and etiquette.
Catalogue Styling
We work with designers or businesses on developing promotional materials such as product catalogues.
Merchandise Styling
Create displays of products in retail stores or for photo shoots.
Photographic Styling
Styling any photo shoot included editorial styling, commercial styling and catalogue styling.
Corporate Styling
Advising companies on their corporate uniforms, providing talks/seminars to staff on personal appearance, in house magazine publications and more.